Are you in USA? Don't have "tvaroh", don't have regular "mouka" and have cravings for buchty? Check out this recipe that is adapted to US measurements. You will be surprised by the results ;o)
Never had buchty? It is a Czech simple pastry made from basic ingredients flour, milk, eggs, butter and sugar. You can fill them with different type of fillings. I like the cheese filling with raisins which I am going to use.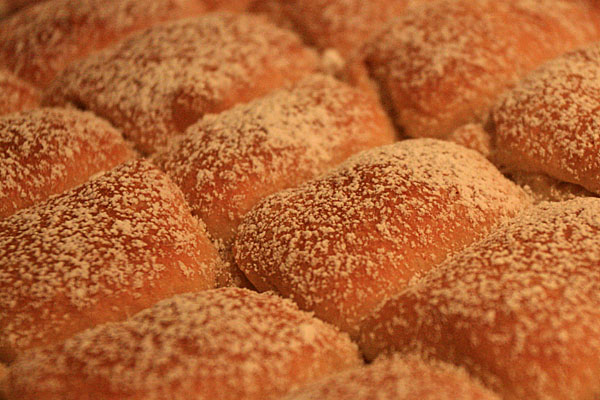 Let's check all the needed ingredients.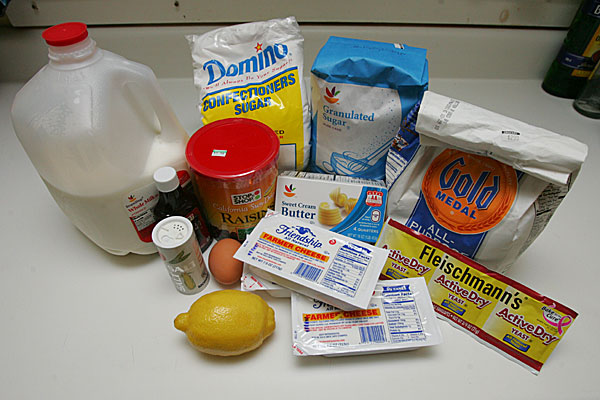 Dough
1/4 oz of granulated yeast
1/4 cup warm water
1 teaspoon sugar
2 tablespoons flour
2 tablespoons lukewarm milk
4 cups flour
1/4 cup sugar
1 teaspoon salt
1 cup lukewarm milk
1/4 cup melted butter
1 egg
1/2 teaspoon grated lemon peel
1 teaspoon vanilla
Cheese filling
1 pound farmer cheese
1/4 cup butter
1/2 cup sugar
2 eggs, separated
1-2 teaspoons vanilla
1/2 cup raisins
1-2 tablespoons milk or cream
Activating the yeast
In order to be successful you need to pay attention to the very first step which is preparing the yeast.

Put one 1/4 oz envelope of yeast to a little cup. I put it in a bowl but better way is put it in a little cup so you can see if it rose. Stir in 1/4 cup warm water (100 – 110°F). To proof the yeast stir in 1 teaspoon of sugar. Let is stand for 10 minutes. The mixture should double in volume. The active yeast should look foamy, bubbly like in the following picture.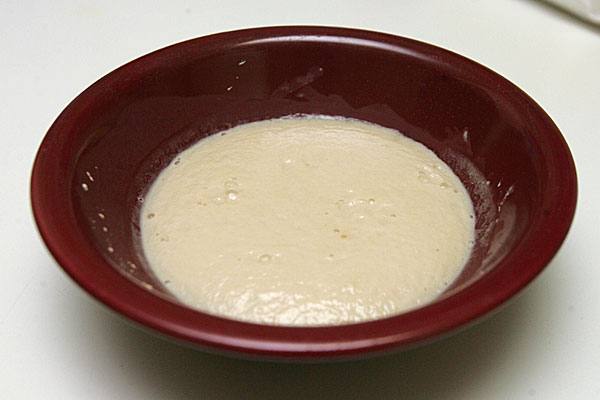 Preparing the dough
Before you start keep in mind that the dough has to be in warm place. So, warm up even the bowl that you are going to keep the dough in.  The easy way is to use your oven at 80°F.
Put the activated yeast in a bowl, add 2 tablespoons of flour, 2 tablespoons of lukewarm milk and blend it. Cover the bowl with a dish towel and put it to the warm place. Let it rise for 5 – 10 minutes.
The mixture should like in the picture.
Add all other ingredients to the mixture: 4 cups of flour, 1/4 cup sugar, 1 teaspoon salt, 1 cup lukewarm milk, 1/4 cup melted butter, 1 egg, 1 teaspoon vanilla and 1/2 teaspoon grated lemon peel. Mix it well.
Put the dough on a pastry board (I used pizza plate cause I don't have one) sprinkled with flour so it doesn't stick. Kneed it properly until the dough is very smooth.
Put the dough back into the bowl, sprinkle it with flour and put it back to the oven.
Let is rise for 30 – 60 minutes in the warm oven (about 90F).
While waiting for the dough prepare the cheese filling.
Cheese filling
The amount of used ingredients is enough to make about 2 batches of buchty. So either make half of it or be prepared that you will end up with some left.
To make the filling smoother sieve the farmer cheese. As I didn't have one I used it as it comes in a package. The filling was just fine.
Mix 1/2 cup sugar, 2 yolks (separate the white to a second bowl) and 1/4 cup butter. Add 1 pound of the farmer cheese, 1-2 teaspoons vanilla and mix it well. Add raisins. Beat the whites and fold them into the mixture. If the mixture is too thick add milk or cream.
Making buchty
Check the dough. It should get doubled in size.
Place the dough on a sprinkled board, punch it down. Stretch it to the sides. Cut it into pieces 3 by 4 by 3/4 inches. Put a spoon of the filling in the center of each and pinch to seal. Grease a large pan. Grease each "buchta" at the sides so they don't stick to each other. You don't need to place them right next to each other as they still will get puffed.
Place the sugar buns in warm place and let them rise for another 30 minutes.
Bake them in preheated oven at 350°F for about 30 to 45 minutes.
They should be golden brown at the top. Take them out and let them cool down. Sprinkle them with powdered sugar. You should be able to take them out easily from the pan.
The first batch didn't come out that great as I didn't properly kneed the dough. The second one is looking way better ;o)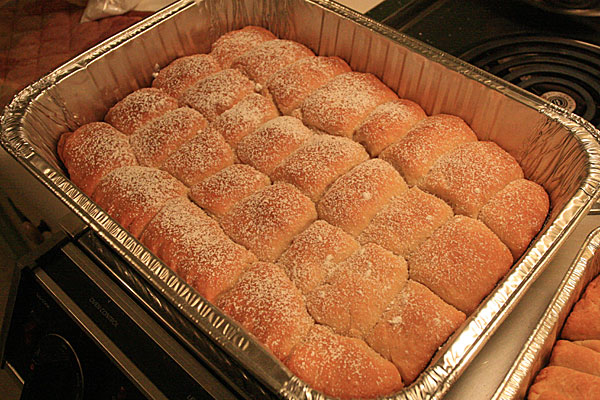 As I didn't figure this on my own I have to thank Caitlin who gave me this Czechoslovak cookbook by Joza Brizova ;o)